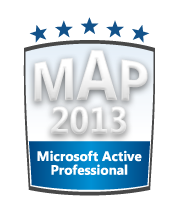 Most of the time I think I am shouting in an empty hall when I publish new posts.
When I feel like that, I still post what seems interesting to me
when I get the time to, which is almost never
because sometimes I like to read my blog and remember the way I have gone through.
It is so gratifying to see that someone out there cares.
Coding, exploring new things and writing are some things that I love but, even though, sometimes it is becomes hard and tiresome
guess why I call my blog Developing is Painful..
.
Getting this recognition was completely unexpected, a great surprise, and it really pushes me to keep on spreading the word and in contact with the new technologies.
Thanks for noticing Microsoft.